The Woman was a member of the primitive human tribe inhabiting the jungle of the planet Ashlar. She was among those captured by the ape army, as were Daena, Karubi and Leo Davidson. In the wagon cages carrying them to the Ape City, she tried to stop Leo from challenging the apes and bringing the wrath of the apes upon the human captives. Her eventual fate is unknown.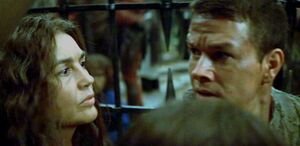 Ad blocker interference detected!
Wikia is a free-to-use site that makes money from advertising. We have a modified experience for viewers using ad blockers

Wikia is not accessible if you've made further modifications. Remove the custom ad blocker rule(s) and the page will load as expected.