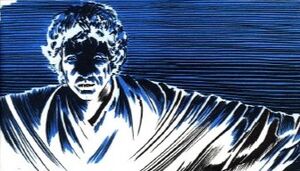 When The Ghosts Walk was a short story printed in Brown & Watson's 1976 'Planet of the Apes' Annual, featuring the characters from the Planet of the Apes TV series and spot illustrations by John Bolton.
As they move ahead of the gorillas, Virdon, Burke and Galen come across another village. They see an unusual old building to one side of the village and notice a gorilla patrol giving the building a wide berth. They later find out that the humans and gorillas of the village believe a ghost lives there. Determined to find the truth, and wanting a safe house for the night, they approach the ruins. After failing to scare them away, the ghost turns out to be Gulik - a reclusive human inventor. The fugitives help him to scare away a group of visiting gorillas and ask him to use his talents to help the humans.
External Links
Edit
Ad blocker interference detected!
Wikia is a free-to-use site that makes money from advertising. We have a modified experience for viewers using ad blockers

Wikia is not accessible if you've made further modifications. Remove the custom ad blocker rule(s) and the page will load as expected.