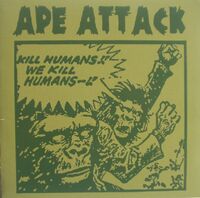 Rise of the Planet of the Apes was released in theaters over this weekend. And it should be no surprise that we all all going ape-bonkers over this new film. In it's first week at the box office, the apes managed to take home a cool fifty-four million dollars and be the number one at the box office. (I wonder how many bananas $54 million dollars would buy)
The film stars James Franco, Freida Pinto, and Andy Serkis. The film was probably helped a little bit by critics who seemed to be mostly favorable of the film. Also high-praise has been given to the realistic and almost photo like quality of the apes.
The Smurfs movie finished at second place and Cowboys and Aliens finished at third place.
Were you able to make it out this weekend to see the success of the Apes? If so what did you think of the movie?
Source
Ad blocker interference detected!
Wikia is a free-to-use site that makes money from advertising. We have a modified experience for viewers using ad blockers

Wikia is not accessible if you've made further modifications. Remove the custom ad blocker rule(s) and the page will load as expected.