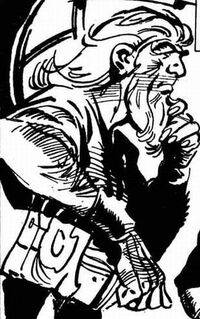 The Wandering Jew was a comic strip printed in Editorial Mo.Pa.Sa's 'El Planeta De Los Simios' 1977 Argentinian comics, written by Jorge Claudio Morhain and illustrated by Sergio Alejandro Mulko, and featuring the characters from the Planet of the Apes TV series.
In a coastal area the fugitives hear music. Drawn to it, they come to the dilapitated ruins of a hilltop villa, but trigger a hidden trap and plummet into a deep crevice. Apes on horses arrive, hauling Virdon and Burke out in a great net. In the villa, Galen meets an old hermit named Ahasuerus, who has made a deal with the apes to play loud music in return for his solitude, unaware the apes are using it to lure humans as slaves for the local prefect. Recognizing Burke and Virdon, the prefect imprisons them in an old theater and sends for Zaius. As gorillas storm the theater, Virdon gets the generator running, scaring the apes with a 'James Bond' film. The generator fails, and Urko fires at the fugitives. As they flee the balcony, Galen and Ahasuerus await outside with horses. Ahasuerus says he is thousands of years old, created in late 20th-century cyborg life-prolongation experiments. Having forgotten his name long ago, he called himself Ahasuerus after the biblical story of the immortal 'Wandering Jew'. Ahasuerus passes out from exhaustion, and when the apes show up, the fugitives run for cover. Eventually he rises, condemned, like his namesake, to walk the Earth alone for eternity.
External Links
Edit
Ad blocker interference detected!
Wikia is a free-to-use site that makes money from advertising. We have a modified experience for viewers using ad blockers

Wikia is not accessible if you've made further modifications. Remove the custom ad blocker rule(s) and the page will load as expected.