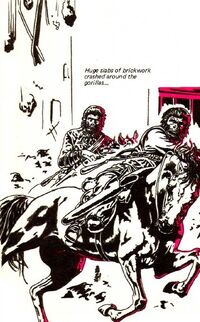 The Scavangers was a short story printed in Brown & Watson's 1975 'Planet of the Apes' Annual, featuring the characters from the Planet of the Apes TV series and spot illustrations by John Bolton.
The fugitives are pursued into the ruins of an old city. The city is home to a number of runaway human slaves and one of them is caught by the gorillas. Virdon comes up with a plan to rescue the runaway while ensuring the gorillas do not return to the ruined city again.
External Links
Edit
Ad blocker interference detected!
Wikia is a free-to-use site that makes money from advertising. We have a modified experience for viewers using ad blockers

Wikia is not accessible if you've made further modifications. Remove the custom ad blocker rule(s) and the page will load as expected.