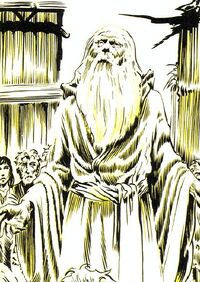 The Prophet was a short story printed in Brown & Watson's 1977 'Planet of the Apes' Annual, featuring the characters from the Planet of the Apes TV series and spot illustrations by John Bolton.
Virdon and Burke enter a human village to find some food, but find the people gathered around an ancient-looking man. He is telling them stories about his youth, when humans had cars and aeroplanes and lived in cities. He also tells them that humans can live like this again. Virdon and Burke know that there is no way this man could remember what must have happened a thousand years before. When a troop of gorillas come to the village to question 'the prophet', the astronauts offer to warn him to stay in hiding, and in doing so solve the mystery. They find his cave containing old library tapes and machines run by nuclear battery cells. They also find the prophet, without his old-man disguise. It seems he had stumbled upon the history of his race and used the best means he could think of to inspire the village. But now he had to act: while Virdon and Burke distract the gorillas, the prophet slips back to the village and leads all the humans to the safety of the hills to start a new human settlement.
External Links
Edit
Ad blocker interference detected!
Wikia is a free-to-use site that makes money from advertising. We have a modified experience for viewers using ad blockers

Wikia is not accessible if you've made further modifications. Remove the custom ad blocker rule(s) and the page will load as expected.