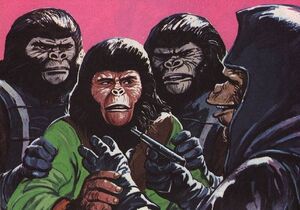 The Captive was a short story printed in Brown & Watson's 1976 'Planet of the Apes' Annual, featuring the characters from the Planet of the Apes TV series.
Searching for food after a long day of running, Galen is caught by Urko and held in the jail of the prefect of a nearby village. To rescue their friend, Virdon starts a bush fire in the hills above the village as a distraction while Burke sneaks into the city to free Galen. Saved from an armed gorilla by Virdon, the three start to run again.
External Links
Edit
Ad blocker interference detected!
Wikia is a free-to-use site that makes money from advertising. We have a modified experience for viewers using ad blockers

Wikia is not accessible if you've made further modifications. Remove the custom ad blocker rule(s) and the page will load as expected.