Dr. Stephanie "Stevie" Branton, a colleague of Dr. Lewis Dixon, was startled to discover the Ape visitors had the power of speech. Cornelius and Zira tell her that Taylor died, what they do to humans, and what will happen to Eath and it's destruction. She was shock and she handle it and understand why they need to keep a secret. She led the Apes into the wider world as they enjoyed a period of great fame and acclaim, before the reaction against what they represented. She risked her career to protect the Apes from extermination.
Appearances
Edit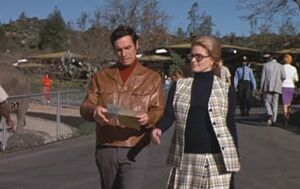 References
Edit
Ad blocker interference detected!
Wikia is a free-to-use site that makes money from advertising. We have a modified experience for viewers using ad blockers

Wikia is not accessible if you've made further modifications. Remove the custom ad blocker rule(s) and the page will load as expected.