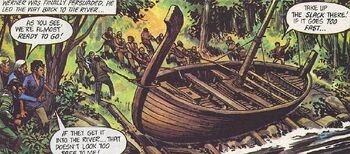 Ship Of Fools was a comic strip printed in Brown & Watson's 1976 'Planet of the Apes' Annual, featuring the characters from the Planet of the Apes TV series and illustrated by Oliver Frey.
Fleeing the apes, our heroes discover the Pacific coast. Here, they find a group of renegade humans led by Werner and Miller, who are building a boat to escape to a better land. After some bargaining, the humans are persuaded to take the three with them. But when a gorilla patrol threatens to find the almost-finished boat, the trio offer themselves as a diversion, allowing the humans to complete the escape without them.
External Links
Edit
Ad blocker interference detected!
Wikia is a free-to-use site that makes money from advertising. We have a modified experience for viewers using ad blockers

Wikia is not accessible if you've made further modifications. Remove the custom ad blocker rule(s) and the page will load as expected.