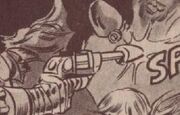 Scorch Weapons were small hand-held devices, designed some time in the mid 21st century. In form and function, they operated similarly to that of a pistol, but rather than using bullets as ammunition, they instead produced quick bursts of flame, the range of which extended several feet.
Scorch Weapons were the preferred armaments of the Inheritors, a subgroup of mutants living underground in one of the many nationwide regions dubbed the Forbidden Zone. Inheritor drones, cybernetic warriors enslaved to an entity known as the Gestalt Commander, often used the Scorch guns to defend their community against any and all non-mutants. A human refugee named Jason once ambushed a mutant and stole his Scorch Weapon. Accompanied by his chimpanzee ally, Alexander, he used the weapon to aid in the rescue of the captured ape leader known as the Lawgiver.
Appearances
Edit
---
Ad blocker interference detected!
Wikia is a free-to-use site that makes money from advertising. We have a modified experience for viewers using ad blockers

Wikia is not accessible if you've made further modifications. Remove the custom ad blocker rule(s) and the page will load as expected.