When Taylor makes his first escape attempt, he runs wildly through the Ape City museum. Here, he startles an adult female chimpanzee with a young male. The female chimp is heard to call the youngster "Quintus" (no name is mentioned in the script). Both chimps presumably perished when Taylor detonated the Alpha-Omega Bomb, which destroyed Earth.
References
Edit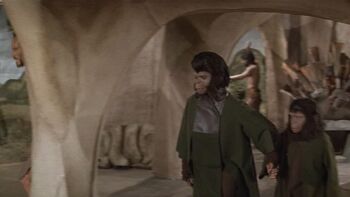 Ad blocker interference detected!
Wikia is a free-to-use site that makes money from advertising. We have a modified experience for viewers using ad blockers

Wikia is not accessible if you've made further modifications. Remove the custom ad blocker rule(s) and the page will load as expected.