Planet of the Apes (2001 Soundtrack Album)
Talk

0
Share
Ad blocker interference detected!
Wikia is a free-to-use site that makes money from advertising. We have a modified experience for viewers using ad blockers

Wikia is not accessible if you've made further modifications. Remove the custom ad blocker rule(s) and the page will load as expected.
Planet of the Apes:
Original Motion Picture Soundtrack

Composer
Danny Elfman
Original Release Date
2001
Format
CD
Record Label
Sony Classical
Catalogue Number
SK 89666
Danny Elfman composed the soundtrack music for the 2001 movie Planet of the Apes, directed by Tim Burton. Elfman had previously been asked to compose for Adam Rifkin's failed Apes remake in 1988,[1] and has been Burton's regular musical collaborator since the 1980s. The score was issued worldwide by Sony Classical in July and August 2001, the first time since Beneath the Planet of the Apes (1970) that an Apes project and its soundtrack have received a simultaneous release.

Sony Classical CD Tracklist:
01 Main Titles (03:49)
02 Ape Suite #1 (03:52)
03 Deep Space Launch (04:35)
04 The Hunt (04:58)
05 Branding The Herd (00:48)
06 The Dirty Deed (02:27)
07 Escape From Ape City / The Legend (05:57)
08 Ape Suite #2 (02:42)
09 Old Flames (02:10)
10 Thade Goes Ape (02:37)
11 Preparing For Battle (03:26)
12 The Battle Begins (05:17)
13 The Return (07:18)
14 Main Title Deconstruction (04:22)
15 Rule The Planet Remix (04:03)
Total time: 58:21
Credits:
Composer - Danny Elfman
Conductor - Pete Anthony
Producer - Danny Elfman
Executive Producer - Tim Burton
Music Production Assistant - Noah Snyder
Rule The Planet Remix Producer - Paul Oakenfold, Povi
Co-producer - Ellen Segal, Marc Mann, Steve Bartek
Engineer - Bill Talbott
Orchestrated By - David Slonaker, Edgardo Simone, Mark McKenzie, Steve Bartek
Music Editor - Ellen Segal
Assistant Music Editor - Pete Myles
Mixer - Dennis Sands
Three tracks were also issued on CD single (Cat# SK 671861 2) and on 12" vinyl (Cat# SAS 55966).
Single Tracklist:
01 Rule The Planet Remix (04:03)
02 Main Titles (03:50)
03 Main Title Deconstruction (04:22)
Total time: 12:15

In December 2010 Warner Bros. Records issued the Danny Elfman & Tim Burton 25th Anniversary Music Box (Cat# 2526543). Limited to 1,000 copies, it included 16 CDs of Elfman's soundtracks for Burton's movies, and came with a bonus DVD, a skeleton USB flash drive and a 250 page hard cover book. CD 9 was dedicated to the Planet of the Apes score, and featured five previously unreleased tracks. Warner Bros. CD Tracklist: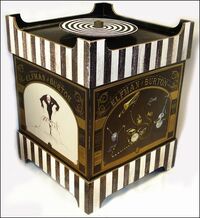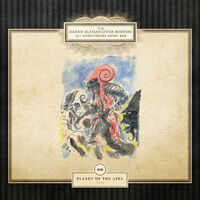 01 Main Titles (03:50)
02 Ape Suite #1 (03:52)
03 Deep Space Launch (04:35)
04 The Hunt (04:57)
05 Branding The Herd (00:48)
06 The Dirty Deed (02:27)
07 Escape From Ape City / The Legend (05:57)
08 Ape Suite #2 (02:41)
09 Old Flames (02:10)
10 Thade Goes Ape (02:37)
11 Preparing For Battle (03:26)
12 The Battle Begins (05:16)
13 The Return (07:18)
14 Main Title Deconstruction (04:22)
15 Rule The Planet Remix (04:03)
16 The Escape (03:33) *
17 Calima (07:20) *
18 Dinner Source (01:37) *
19 Main Title (synth and percussion only) (03:42) *
20 Camp Raid (percussion only) (02:29) *
Total time: 77:00 (* previously unreleased)
External Links
Edit
References
Edit
↑ Tales From Development Hell, by David Hughes