As Leo Davidson and his fellow-human captives are brought into the Ape City, he sees the full range of ape society on display. Among them is an old chimp smoking a hookah as he listens to an orangutan street-musician.
The character was portrayed by Rick Baker, who was more usually to be found behind the scenes as the makeup designer for the movie.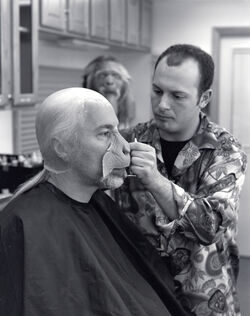 Ad blocker interference detected!
Wikia is a free-to-use site that makes money from advertising. We have a modified experience for viewers using ad blockers

Wikia is not accessible if you've made further modifications. Remove the custom ad blocker rule(s) and the page will load as expected.