The Minister (d. 3978) was an orangutan who lived in the East coast Ape City in the latter half of the 40th century. He was a high-ranking religious leader among the ape community, and was called upon to bless the gorilla army as it set off to conquer the Forbidden Zone. The Minister must have died a short time later when Taylor detonated the Alpha-Omega Bomb, destroying the entire planet.
Appearances
Edit
References
Edit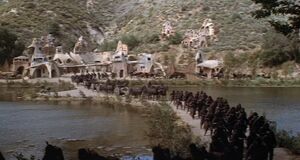 Ad blocker interference detected!
Wikia is a free-to-use site that makes money from advertising. We have a modified experience for viewers using ad blockers

Wikia is not accessible if you've made further modifications. Remove the custom ad blocker rule(s) and the page will load as expected.