Michael Conrad was an actor featured on the Planet of the Apes television series. He appeared in the episode "The Tyrant" as Janor.
Parts of the Apes makeup appliances were used on Michael Conrad, playing an ape-like alien in one of the last few episodes of Lost in Space; "Fugitives in Space" aired on 31 January 1968, shortly before the premier of Planet of the Apes, thus making him one of the first people to wear the Ape make-up on screen.[1]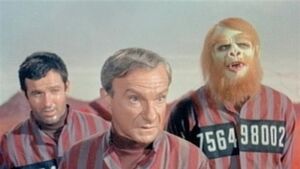 External Links
Edit
References
Edit
---
Ad blocker interference detected!
Wikia is a free-to-use site that makes money from advertising. We have a modified experience for viewers using ad blockers

Wikia is not accessible if you've made further modifications. Remove the custom ad blocker rule(s) and the page will load as expected.