Malo (so named in the early script) is an officer dispatched to search the home of Yalu and Ann when it becomes clear that Galen and Virdon are in the city. He is careful not to offend Ann, and slaps one of his gorillas for making a mess. He decides not to search any further as it would inconvenience her, thus saving the fugitives.
Another, earlier, scene was filmed involving the officer questioning a country ape, outside who's home Galen and Virdon had abandoned their stolen cart. Lee Delano autographed some pictures from this episode adding the character name "Lugo".
Malo/Lugo wears the uniform of the rank of "sergeant".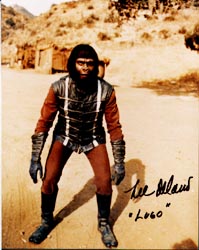 Ad blocker interference detected!
Wikia is a free-to-use site that makes money from advertising. We have a modified experience for viewers using ad blockers

Wikia is not accessible if you've made further modifications. Remove the custom ad blocker rule(s) and the page will load as expected.