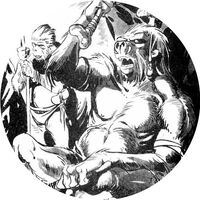 Maguanus was chief of the primitive Assisimians. He despised Lightsmith and formed an uneasy alliance with Brutus, but Brutus soon tired of him and killed him. Later, the rest of his tribe attacked the river settlement but ended up agreeing a truce and becoming friends.
Appearances
Edit
Ad blocker interference detected!
Wikia is a free-to-use site that makes money from advertising. We have a modified experience for viewers using ad blockers

Wikia is not accessible if you've made further modifications. Remove the custom ad blocker rule(s) and the page will load as expected.