Judy Greer appeared in the 2014 movie Dawn of the Planet of the Apes as Cornelia, Caesar's wife.
Judy co-starred in the short-lived 2010 TV sitcom Mad Love with Tyler Labine. Dawn was the second film that Judy starred in with Andy Serkis. The first film they starred in together was 13 Going on 30 (known in some countries as Suddenly 30). Andy personally asked her to run for a character in Dawn.
Judy's husband Dean Johnsen is a self-proclaimed fan of the original films. The couple even went as far as to have an ape husband and wife wedding cake topper on their wedding cake in 2011, and he pleaded with her to get a role in Dawn.[1]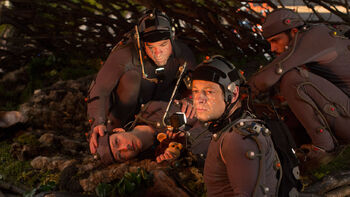 External Links
Edit
References
Edit
↑ Movie Apes Unmasked!, by Jim Nelson - 'National Enquirer' (28 July 2014)
Ad blocker interference detected!
Wikia is a free-to-use site that makes money from advertising. We have a modified experience for viewers using ad blockers

Wikia is not accessible if you've made further modifications. Remove the custom ad blocker rule(s) and the page will load as expected.