Joe Wong was an actor who appeared as an orangutan in the early costume tests for Planet of the Apes. He was photographed and filmed, along with examples of gorilla and chimp make-up and costumes, in at least two different orangutan costumes - one example of which was dated 'April 12, 1967'. At a later point one of these photos was issued as part of a series of trading cards crediting him, incorrectly, as 'Dr. Honorius'.
There is a strong possibility that Joe Wong's image from this photo session was also used as the model for the Lawgiver statue featured in the movie, which would have been designed around that time.
External Links
Edit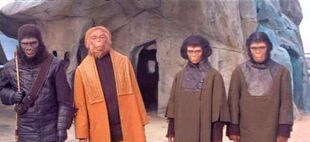 ---
Ad blocker interference detected!
Wikia is a free-to-use site that makes money from advertising. We have a modified experience for viewers using ad blockers

Wikia is not accessible if you've made further modifications. Remove the custom ad blocker rule(s) and the page will load as expected.