There was a fourth ape in Escape from the Planet of the Apes, but he was a contemporary non-intelligent ape in a zoo who tried in his confused way to befriend the brilliant visitors. He was played by Janos Prohaska who specialized in portraying apes on the screen.[1] Some sources list Hungarian-born Prohaska as having portrayed Heloise, others mention his onscreen killing of Dr Milo, however these were two different characters: the un-named Gorilla in Zoo; and Heloise the female chimp in Armando's circus who adopted the infant Baby Milo shortly after Zira had given birth. Given his extensive experience of playing ape-like characters (with numerous appearances on both sci-fi and comedy TV shows throughout the 1960's) it is quite likely that Prohaska played both parts.
Inevitably, Prohaska had already worked with many of the Apes creative makeup artists on other projects. In addition, the 1971 Night Gallery episode 'Pickman's Model' (which starred Bradford Dillman and was introduced by Rod Serling), earned John Chambers an Emmy Award nomination for the design of 'the Ghoul', played by Janos' son, Robert Prohaska. As a primary portrayer of primates, Janos was interviewed for his expert opinion on the famous Patterson/Gimlin 'Bigfoot' film, recorded in October 1967 and often attributed to Chambers, who had just finished filming the original Planet of the Apes movie.
Janos and Robert Prohaska designed the costumes for the David Wolper Productions/ABC-TV four-part documentary series 'Primal Man', about prehistoric man's struggle for survival, with John Chambers and Tom Burman designing the makeup and fellow-Apes makeup artists Ellis Burman Jr., Werner Kepler, Ken Chase, Ed Butterworth and Fred Blau all working on the series. During filming of the final episode, 'The Struggle for Survival', on March 13 1974, some of the cast and crew boarded a chartered plane to return to Los Angeles, but it crashed into a mountain, killing all 36 people on board, including Janos and Robert Prohaska. The 'Primal Man' project was re-named and aired in 1974 as the acclaimed series 'Up from the Ape', including the footage already shot and recovered from the plane wreckage.[2]
External Links
Edit
References
Edit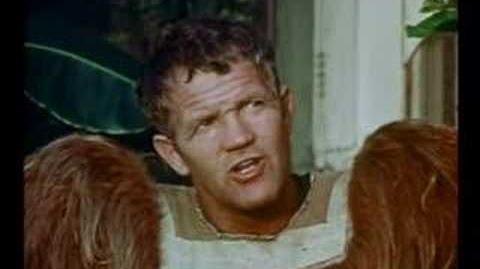 Ad blocker interference detected!
Wikia is a free-to-use site that makes money from advertising. We have a modified experience for viewers using ad blockers

Wikia is not accessible if you've made further modifications. Remove the custom ad blocker rule(s) and the page will load as expected.