Hercules & Brunhilde were performers in Armando's circus. A short scene was outlined in the screenplay of Escape from the Planet of the Apes:
(Armando and Lewis) pass a humbler caravan on whose steps a male and female midget sit smoking.
ARMANDO (genially): "Hercules! Brunhilde! It's time you were in bed."
BRUNHILDE (coyly): "We've been in bed."
Armando smiles and waves good night.
'Planet of the apes as American Myth' credits Ed Holliday and Raylene Holliday as having played these characters even though the scene does not appear in the movie, suggesting the scene may have been filmed and then cut from the final edit.[1] The characters seem to appear in the short featurette Don Taylor directs Escape from the Planet of the Apes.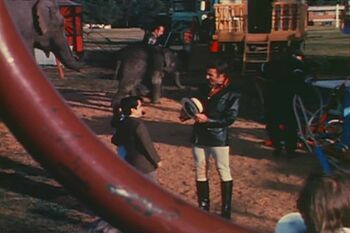 References
Edit
↑ Planet of the apes as American Myth by Eric Greene (Page 217)