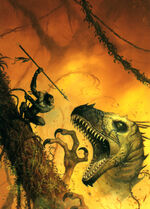 HarperCollins is the book publishing arm of NewsCorp, the parent company of 20th Century Fox. The company launched a series of mass-market paperback novels tied in to Tim Burton's 2001 re-imagining of Planet of the Apes, beginning with the novelisation of that film by William T. Quick. Two more books written by Quick then chronicled the creation of this new "planet of apes" as experienced by the crew of the crashed space station Oberon. The events in the books were a prequel to Leo Davidson's landing as depicted in the film.
HarperEntertainment, an imprint of HarperCollins Publishers, simultaneously released another series of books based on this Apes timeline, but aimed at a younger market. A second, "junior", novelisation of the movie was written by John Whitman, followed by two further Whitman-penned books set shortly before the events of the movie.
HarperCollins Publications
Edit
HarperEntertainment Publications
Edit
A further two novels were proposed for publication as part of the series, but disappointing sales resulted in their cancelation. The third installment was completed and advertised, while the fourth part did not get beyond an outline.[1]
External Links
Edit
References
Edit
Ad blocker interference detected!
Wikia is a free-to-use site that makes money from advertising. We have a modified experience for viewers using ad blockers

Wikia is not accessible if you've made further modifications. Remove the custom ad blocker rule(s) and the page will load as expected.