"
Smile!
"

— The Gorilla Photographer
The Gorilla Photographer takes a picture of the Hunt Leader and two of his colleagues, standing over the corpses of the humans they have just killed during the hunt. As such, he is the first ape we hear speaking ("Smile!").
Bob Lombardo also played Marcus. It's possible that the photographer and Marcus are the same character.
In the 2011 novel Conspiracy of the Planet of the Apes, it is revealed that Marcus and the photographer are half-brothers, sons of Digby.
Appearances
Edit
References
Edit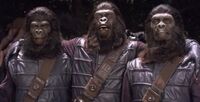 Ad blocker interference detected!
Wikia is a free-to-use site that makes money from advertising. We have a modified experience for viewers using ad blockers

Wikia is not accessible if you've made further modifications. Remove the custom ad blocker rule(s) and the page will load as expected.