"
Human lover!
"

— Gorilla kid calls Ari

The Gorilla Kid was a citizen on the Ashlar planet of apes.
Biography
Edit
As Leo Davidson and his fellow-human captives are brought into the Ape City, a group of football-playing young apes stop their game to taunt the caged humans. For this, they are reprimanded by Ari.
An identical gorilla child is see towards the movie's end, taking Leo's picture in the ape public gathering.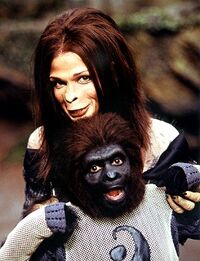 Ad blocker interference detected!
Wikia is a free-to-use site that makes money from advertising. We have a modified experience for viewers using ad blockers

Wikia is not accessible if you've made further modifications. Remove the custom ad blocker rule(s) and the page will load as expected.