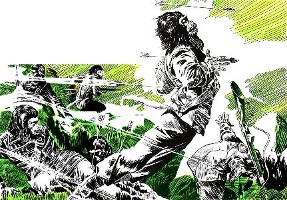 Galen's Guerrillas was a short story printed in Brown & Watson's 1976 'Planet of the Apes' Annual, featuring the characters from the Planet of the Apes TV series and spot illustrations by John Bolton.
Travelling towards the Rocky Mountains, the three are captured by a renegade group of humans. The astronauts are kept in the village jail while Galen is to be executed as a warning to the apes who constantly threaten the humans' liberty. When the gorillas appear with a large army, Virdon teaches Galen the art of guerrilla warfare and tells him to pass the information on to Seth, the human leader, thus saving Galen's life and the human cause. Armed with only bow-and-arrows, Galen's tactics prove much more effective against the heavily armed gorillas and in gratitude Seth allows the fugitives to escape from the village.
External Links
Edit
Ad blocker interference detected!
Wikia is a free-to-use site that makes money from advertising. We have a modified experience for viewers using ad blockers

Wikia is not accessible if you've made further modifications. Remove the custom ad blocker rule(s) and the page will load as expected.