Actress and dancer Devyn Dalton played the role of Cornelia in the 2011 movie Rise of the Planet of the Apes and Cornelius in War for the Planet of the Apes. She also played Caesar in some scenes in Rise of the Planet of the Apes when he was a toddler. She had previously appeared in the short Crazy Late (2005), TV movie Chasing Christmas (2005) and TV series Supernatural (2009).
External Links
Edit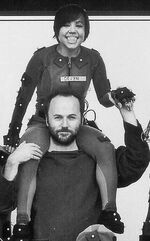 Ad blocker interference detected!
Wikia is a free-to-use site that makes money from advertising. We have a modified experience for viewers using ad blockers

Wikia is not accessible if you've made further modifications. Remove the custom ad blocker rule(s) and the page will load as expected.