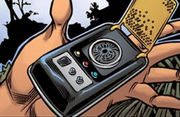 A communicator is a small, handheld, portable device used to speak with people over long distances. A communicator was integral to Taylor's plan to finally escape the Planet of the Apes. He does so by knocking out Chekov and stealing his.
The communicator is exclusive to the Star Trek/Planet of the Apes crossover.
Its license like all Star Trek characters or items falls under the IDW Publishing domain.
Known Users
Edit
Appearances
Edit
Ad blocker interference detected!
Wikia is a free-to-use site that makes money from advertising. We have a modified experience for viewers using ad blockers

Wikia is not accessible if you've made further modifications. Remove the custom ad blocker rule(s) and the page will load as expected.