Claude Akins was an American actor, born in Georgia, who made numerous appearances in 1950's and 1960's TV shows and films. He generally played the villain because of his physical stature, and usually met a violent end. Despite this, off-screen Akins was about as close to being a model husband and father as could be found in Hollywood, or anywhere else for that matter; he played golf with his son, tennis with his wife and swam with his two daughters; he gave every appearance of being at peace with himself and the world around him.[1]
Akins had some thin times in New York for a while, then landed the male lead in The Rose Tattoo. The producers of the film From Here To Eternity were looking for some new faces and signed Akins for the role of Sergeant Dhom. He never found it necessary to leave Hollywood. "It's funny, my late father was a policeman, and a very good one. He always was delighted by the fact that I was making crime pay so well." In 1973, Claude Akins played General Aldo in Battle for the Planet of the Apes. He was nicknamed 'Cuddles' by the crew because of his humorous, sunny disposition.[2]
External links
Edit
References
Edit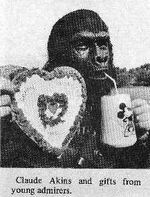 ---
Ad blocker interference detected!
Wikia is a free-to-use site that makes money from advertising. We have a modified experience for viewers using ad blockers

Wikia is not accessible if you've made further modifications. Remove the custom ad blocker rule(s) and the page will load as expected.