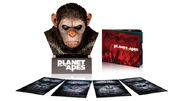 Caesar's Warrior Collection Box Set is a limited edition collectors 9 disc Blu-ray box set exclusive to Amazon. It was released during early 2015, in celebration of Dawn of the Planet of the Apes. The contents are packaged in a large box, donning a red dawn, tribal warpaint motif of apes raising their arms in dominance.
Included movies
Edit
WETA workshop's manufactured detailed sculpted bust of Caesar wearing his war-paint as seen in promotional posters and the beginning of Dawn of the Planet of the Apes. The bust features a drawer on the rear underside for the internal memorabilia.
A detailed 32 page booklet of history on the Planet of the Apes saga and WETA workshops.
Product details
Edit
Format: Box set
Classification: 12
Studio: 20th Century Fox Home Entertainment
DVD Release Date: 24 Nov. 2014
Discs: 8 Blu-ray discs, 1 Blu-ray 3D disc.
Contrary to the site's early release photos, the Blu-ray discs included are not the ones similar to their regular Blu-ray releases, but are all covered in artwork similar to the box artwork.
Ad blocker interference detected!
Wikia is a free-to-use site that makes money from advertising. We have a modified experience for viewers using ad blockers

Wikia is not accessible if you've made further modifications. Remove the custom ad blocker rule(s) and the page will load as expected.