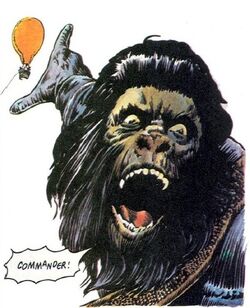 Breakout was a comic strip printed in Brown & Watson's 1977 'Planet of the Apes' Annual, featuring the characters from the Planet of the Apes TV series.
The fugitives struggle to escape a gorilla outpost, but once past they discover they have broken into a prison camp for renegade humans. With the willing help of the prisoners they search for a way to escape and find a way when they discover an outlet of natural gas. Working all day, they construct a hot air balloon, basket and two humanoid dummies. They release the balloon the next morning and most of the gorillas go in pursuit, thinking that humans are escaping in it. To distract the remaining guards Pete blows up the gas outlet. With all the guards taken care of, the humans escape and disperse into small groups.
External Links
Edit
Ad blocker interference detected!
Wikia is a free-to-use site that makes money from advertising. We have a modified experience for viewers using ad blockers

Wikia is not accessible if you've made further modifications. Remove the custom ad blocker rule(s) and the page will load as expected.