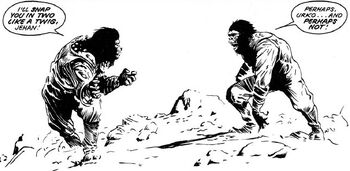 Blow For Blow was a comic strip printed in Brown & Watson's 1977 'Planet of the Apes' Annual, featuring the characters from the Planet of the Apes TV series and illustrated by John Bolton.
Gorilla Jehan has assembled a troop of soldiers to take over Central City and kill Urko but Urko's spies have tipped him off and he ambushes Jehan's renegade soldiers. As Urko pursues the rebels they are killed off one-by-one until only six remain hidden in the mountains. To settle the feud, Jehan and Urko agree to fight in person. Jehan overpowers Urko and is about to kill him when he is stopped by Zaius, who may have known about Jehan's plot beforehand. He allows Jehan to live in exile if he lets a humbled Urko live aswell.
External Links
Edit
Ad blocker interference detected!
Wikia is a free-to-use site that makes money from advertising. We have a modified experience for viewers using ad blockers

Wikia is not accessible if you've made further modifications. Remove the custom ad blocker rule(s) and the page will load as expected.