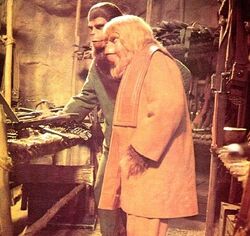 A Promise Kept was a short story printed in Brown & Watson's 1975 'Planet of the Apes' Annual, featuring the characters from the Planet of the Apes TV series.
Galen has led his friends towards his former home village of Nufort but insists they stay outside the village while he visits his old friends Shako and Ponar, orangutan leader of the village. They warmly welcome him but tell him that Zaius is due to visit the next day. Ponar arranges for Galen to meet Zaius secretly but Zaius refuses to help Galen, other than to let him escape again. But treacherous villager Naten has informed Urko that Galen is there and there follows a tense stand-off between the villagers and Urko's gorillas, allowing Galen to slip away unnoticed.
External Links
Edit
Ad blocker interference detected!
Wikia is a free-to-use site that makes money from advertising. We have a modified experience for viewers using ad blockers

Wikia is not accessible if you've made further modifications. Remove the custom ad blocker rule(s) and the page will load as expected.